Welcome to Poppy 2
$650,000 - $1,750,000

​​​​​​​Only nine of the original sixteen one•plus acre lots remain available. Situated on the back nine of Poppy Hills Coif Course. offering fairway and forested views. The central Pebble Beach location provides easy access to all the amenities the Monterey Peninsula entails.
Where to Eat

The 19th hole has long been a respite for weary golfers, a place to enjoy a cold beer and an assortment of fried foods while rehashing stories from the links.These days golf has exploded in popularity, with millions of new players from all age groups and walks of life. That surge combined with the growing foodie culture has created a need for a completely different golf course dining experience.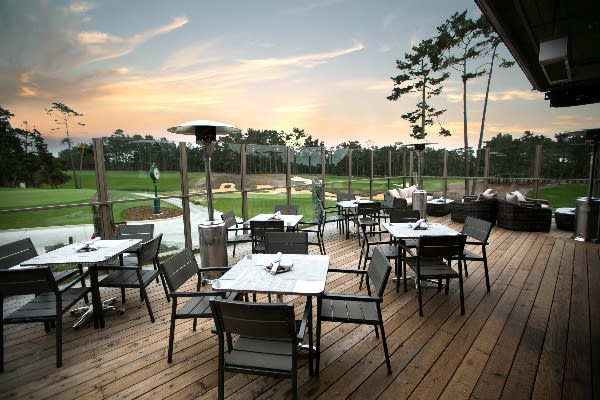 Poppy Hills Golf Course in Pebble Beach has responded by transforming its old clubhouse café Porter's Bar and Grill into a beautifully renovated restaurant called Porter's in the Forest that includes a panoramic view of the Del Monte Forest, a re-imagined, farm-to-table menu, unique wine and cocktail lists, comfortable leather chairs, outdoor dining and fire pits.

​​​​​​​"We want to take ordinary golf food and spin it upside down," said De Vivo, the new executive chef and food and beverage director. "We want to make what golfers like to eat, with a twist. Everything will be made with love."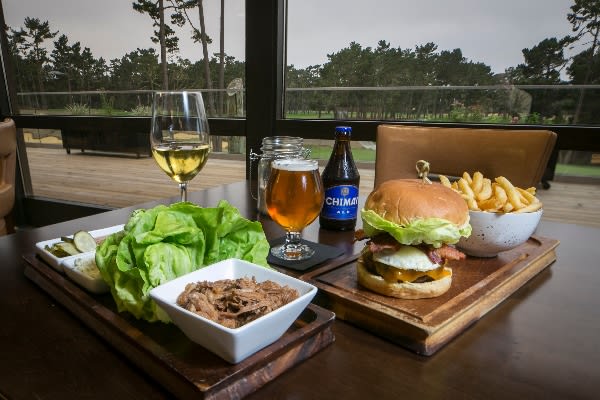 Porter's in the Forest is now a place where discriminating diners (golfers and non-golfers, locals and tourists) expect something deliciously different. Formerly the executive chef at high-end Casanova in Carmel, De Vivo calls his new cuisine "California Artisanal," using local and regional products and making everything in-house. De Vivo takes that philosophy to heart, producing fresh bacon by smoking whole pork bellies, churning heavy cream into butter to slather on fresh-baked bread, and making his own kimchi, his own ketchup and his own pickles.
"This isn't fine dining, its fun dining. Interesting food with a twist, with ingredients that are sourced very carefully," De Vivo said.

The menu is chockfull of creative fusion, such as De Vivo's Korean Philly cheesesteak with house-made kimchi, and always includes carefully sourced ingredients, such as the Jidori chicken, an organic, cage-free, hormone-free bird known for its robust flavor.Every menu item has De Vivo's imaginative touch. Atop his salmon salad he sprinkles bacon "granola," made by adding dehydrated milk powder to bacon fat to create a crumble with pine nuts and za'atar.

De Vivo's Forest Burger includes house-made bacon, onion marmalade, horseradish and butter lettuce, and his Short Rib Fries (braised ribs served over fries with a muenster cheese au gratin) are a hit with guests."Diners are more educated now," he said. "They recognize quality and originality and they demand that."

​​​​​​​Porter's serves breakfast (6 a.m - 10:45 a.m) lunch (11 a.m - 3 p.m) and a special twilight menu (3-7 p.m; 3-8 p.m. Fri.-Sat.). It's housed in a large but intimate dining room accented by vaulted ceilings and floor-to-ceiling windows that capture a show-stopping, panoramic view of the tree-studded Poppy Hills Golf Course.

"We want the residents of Pebble Beach to feel like this is their restaurant," said Brad Shupe, general manager at Poppy Hills. "This is like their club in the forest."

Where to Golf
Nestled amidst the Monterey pines of Del Monte Forest on the Monterey Peninsula, Poppy Hills Golf Course first opened for play in 1986, and is the home of the Northern California Golf Association (NCGA). It was the first golf course in the United States to be owned and operated by an amateur golf association. In addition to hosting numerous NCGA championships since its opening, Poppy Hills Golf Course co-hosted the AT&T Pebble Beach National Pro-Am with Pebble Beach Golf Links and Spyglass Hill Golf Course from 1991 through 2009.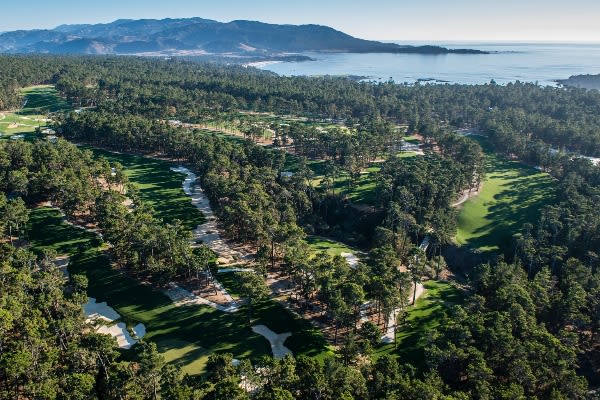 Golf Digest has ranked Poppy Hills Golf Course among the top 20 courses in California, and it is only expected to improve with its recent $10 million restoration. In the words of its famed architect, Robert Trent Jones, Jr., "A golf course is a work in progress; it's really never finished. It is a living organism; it is constantly changing. The old Poppy Hills has great bones; for the refreshed Poppy Hills…we want to keep some of the character. For those people that have golfed at Poppy Hills for the past 25 years, they will feel familiar with some of the things.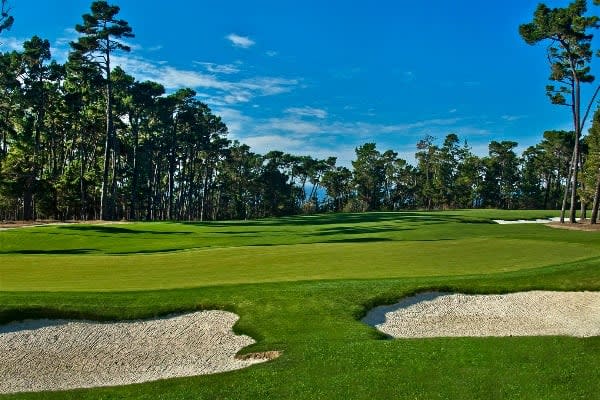 Some things will be new. The routing, with the exception of 11 and 12, will remain the same, but we are softening some of the targets off the tees and trying to keep the shot-making—especially the approach shots into the greens—as challenging as they've always been.
She'll be familiar to those who have played her before, but she's got a new dress on and she's very beautiful."

​​​​​​​From the black tees (tips of the original design) several of the holes have been lengthened slightly. Others have been shortened some—most notably the 11th, reduced from a 210-yard par-3, to a tightly bunkered, 133-yard challenge with a long, well-bunkered green; and the 12th hole, which has been refined from an awkward dog-leg par-5 of 531 yards to a beautiful par-4 of 415 yards with an exceptional ocean view from the elevated tee.

With these changes, the new Poppy Hills Golf Course will be a par 71 of 6,646 yards (vs. the old par 72 of 6,863 yards) from the black tees. However, for the long hitters, there are new gold tees, back of the black tees, that will play to 7,069 yards. The old Poppy Hills Golf Course had a slope rating of 74.6/144 and the course record of 62 was set by Matt Gogel during the second round of the 2001 AT&T Pebble Beach National Pro-Am. The rating of the refreshed version of Poppy Hills and future records are yet to be set.


​​​​​​​